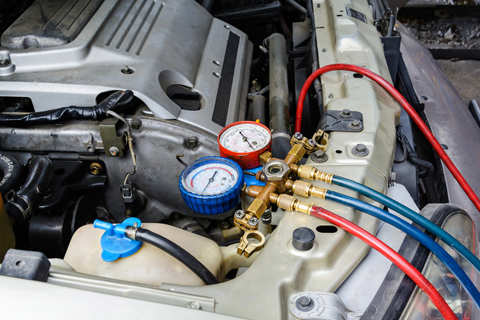 Kenosha, Wisconsin, known for its rich history, picturesque shores, and close-knit community, is a haven for drivers. During the warmer months, a fully functional air conditioning system in your car is not just a luxury, but a necessity. As the mercury soars, residents of Kenosha know the value of a cool and comfortable drive. However, like all machinery, car AC systems can falter, and when they do, it's essential to know where and how to get them repaired.
We make car air conditioning repair more convenient for you
We are a friendly and professional group of people
We handle a wide range of car AC services
Fast car ac repair and affordable solutions
We get the job done right — the first time
At Hoffman's Auto & Tire we value the safety of our customers above all else. We want to ensure that you get to where you're going every time with a reliable and safe vehicle. A major problem area for the cars and trucks that come into Hoffman's Auto & Tire, are tires. Your tires are your connection to the road, and without them doing their job properly, all the handling development and safety testing that went into your car may not keep you safe. Here is some basic information on your tires and how to know when the time has come for replacements.

In Kenosha, the most common car AC issues stem from a lack of refrigerant, malfunctioning compressors, or electrical problems. The complex nature of modern AC systems means it's crucial to consult professionals when facing these issues. Local mechanics are well-equipped and familiar with the challenges posed by the city's climate and can efficiently troubleshoot problems and get the AC running optimally.
What are the signs that my car AC needs repair?

If your AC isn't cooling effectively, emits unusual odors, makes strange noises, or if there's a noticeable leakage, it might be time for a repair.

How often should I get my car AC checked in Kenosha?

It's recommended to have a routine check annually, preferably before the onset of warmer months, to ensure optimal performance.

Is it harmful to drive with a malfunctioning AC system?

While it won't harm the vehicle, it can be uncomfortable for the occupants, especially during hot days. Prolonged neglect can also lead to more expensive repairs in the future.

How long does a typical AC repair take in Kenosha?

Most repairs can be completed within a day. However, more complex issues might require more time, depending on part availability and the extent of the damage.

Are there any DIY fixes for common AC problems?

While minor issues like checking fuses or cleaning vents can be DIY tasks, it's advisable to consult a professional for significant problems to ensure safety and efficacy.
Choosing a local repair shop in Kenosha has its perks. These professionals are well-versed in the specific needs and concerns of the community. Moreover, they are often more attentive and offer personalized services. By opting for a local technician, residents not only get quality service but also contribute to the local economy.

To ensure that the AC system functions efficiently for an extended period, routine checks and timely repairs are paramount. Preventative maintenance can save both time and money in the long run. Kenosha's specialists can recommend the best practices and products to maintain the longevity and efficiency of the system.

At Hoffman's Auto & Tire, customer safety is our number one priority. We hope you'll be a little safer with this information. If you'd like to talk about whether your Air Conditioning may need inspection or replacement, call us at 262-764-9473 or visit us at 4811 Green Bay Rd in Kenosha, WI.